About Seismic Tomography
Lead by co-chairs Andreas Fichtner of ETH Zürich and Clifford Thurber of the University of Wisconsin-Madison, the meeting's goal is to explore both classic and cutting-edge tomographic approaches, encompassing a wide range of methods and novel applications used to image the internal structure of the Earth.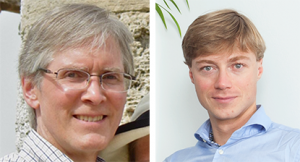 "This meeting also will be an opportunity for our seismic tomography community to gather again and discuss the future of the field after a rather long period where personal interaction was nearly impossible," said Fichtner.
Researchers interested in attending the meeting should present abstracts that reflect ambitious and forward-thinking ideas about the future of seismic tomography, the co-chairs said.
Check this page for regular updates. Questions? Email SSA at abstracts@seismosoc.org.
Meeting Details

28-30 October 2022
Toronto, Ontario
Westin Harbour Castle
Room rate: $199 CAD/night

Important Dates

Abstract Submissions: 1 April–31 May 2022
General Registration Requests: June/July 2022
Program Announced: July 2022
Tomography 2022: 28-30 October 2022
Who should attend?
We invite scientists working to advance our understanding of Earth's internal structure, using both traditional techniques and novel approaches. The meeting attendance is limited and priority will be given to those presenting an abstract.
The registration process is largely tied to the submission and acceptance of abstracts. Non-presenters interested in attending may apply to attend through a registration application submitted to and approved by the co-chairs.
---
Health and Safety
Tomography 2022 will be a fully in-person conference: all attendees must be vaccinated against COVID-19.
We monitor the local public health rules and those issued by the CDC and may adjust requirements for attendance before October 2022. Our priority remains the health and safety of all in attendance.