Welcome!
August 5, 2015 – The SSA Government Relations Committee selected graduate students Gabrielle Tepp of the University of Rochester and Manuel Mendoza of the University of California at Riverside to attend the annual Geosciences Congressional Visits Day (Geo-CVD) in Washington, D.C., September 29-30, 2015.
Each year SSA invites U.S. graduate students to apply for a travel grant to attend Geo-CVD, supplying a grant to cover up to $2000 of travel expenses (transportation, lodging, and food costs), and winners are asked to write a brief report on the experience for publication in the SSA journal, the Seismological Research Letters (SRL). This student member opportunity would not have been possible without the ongoing generous support of SSA members. A new fund has been established for member contributions to supply ongoing support for this program. Look for it when you renew your membership.
Abstract Submission Deadline Friday 9/4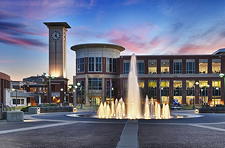 July 22, 2015 – The 87th annual meeting of the Eastern Section of the Seismological Society of America, hosted by the Center for Earthquake Research and Information (CERI) at the University of Memphis, will be held 6-8 October 2015 on the University of Memphis campus in Memphis, Tennessee (an icebreaker event will be held the evening of October 5th).
Oral and poster presentations are welcomed in all areas of seismology, EarthScope in the CEUS, CEUS source studies, NGA East results, CUS earthquake hazards, CEUS geodynamics, CEUS geodesy and GPS, induced seismicity, and any other topic consistent with the SSA objectives.
The abstract submission deadline for the meeting is Friday, September 4th at midnight Pacific time. Registration for the meeting will be accepted online until September 25th (prices go up after September 11th, so if you're planning to attend register soon to get the early bird discount). For more information, including details of the October 8th field trip , please visit the meeting home page.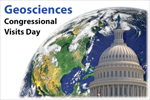 July 20, 2015 – SSA, in collaboration with the American Geosciences Institute (AGI) and many other geoscience societies, invites geoscientists to come to Washington D.C. for the annual Geosciences Congressional Visits Day (GEO-CVD) on September 29–30, 2015. Decision makers need to hear from geoscientists. Join us and many of your colleagues for this two-day event uniting geoscience researchers, professionals, students, educators, engineers, and executives in Washington, D.C. to raise visibility and support for the geosciences!
June 15, 2015 – Each of next three issues of Seismological Research Letters (SRL) will showcase a focus section on a timely, noteworthy topic in seismology. The July/August focus section features eight articles on injection-induced seismicity (it was "published ahead of print" online 10 June 2015; see the table of contents). The September/October SRL is scheduled to contain a focus section about the Cascadia Initiative, an onshore/offshore experiment using data from an amphibious array to study the Juan de Fuca, Gorda, and Pacific plates. And the November/December issue is set to include a focus section with some of the first papers to result from the 25 April 2015 M 7.8 Gorkha earthquake in Nepal. SRL focus sections provide a forum for authors to publish—and readers to learn from—six to eight papers on a single current topic in seismology.
To propose a future SRL focus section, contact SRL Editor in Chief Zhigang Peng at zpeng@gatech.edu.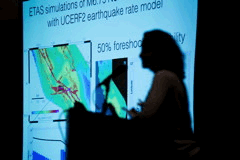 June 4, 2015 – Over 150 video slidecasts of oral presentations and over 140 posters from the 2015 Annual Meeting in Pasadena are now available online for viewing by SSA members (login with SSA username & password required).
Click here to view slidecasts and posters from the thirty-three technical sessions including this year's Joyner Lecture by Paul Somerville. Take this opportunity to see what you missed or share one of these sessions with a colleague.
May 21, 2015 – Congratulations to the winners of the 2015 Student Presentation Award! These awards are given for an excellent poster presentation or talk at each Annual Meeting. For more information about these awards and links to the abstracts of all the winning presentations please visit the Student Presentation Awards page.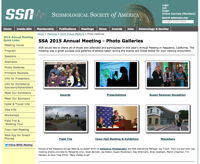 May 8, 2015 – Several galleries of photos taken at SSA's 2015 annual meeting in Pasadena, California have been posted for your viewing enjoyment.
Thanks to everyone who attended and helped make the meeting a success! We look forward to seeing you next year in Reno!!

Latest SSA Journals

July 30, 2015 – The complete August 2015 issue of the Bulletin of the Seismological Society of America (BSSA vol. 105, no. 4) is now available to SSA members and institutional subscribers online at GeoScienceWorld and BSSA Online. Click to view the table of contents for the issue. SSA members should click here to access full text or PDFs of all articles from the issue (log in with your SSA username and password required).
On the Cover…
Since 2009, the rate of seismicity in the central and eastern United States has increased sharply, as illustrated in the top image on the front cover. Almost all of this increase is attributable to seismicity induced by wastewater that is coproduced during oil extraction (lower right). Traffic-light monitoring systems have been introduced in some areas to mitigate induced seismicity; the lowerleft image illustrates schematically a new risk-matrix approach for traffic-light monitoring. Details can be found in the eight articles of the Focus Section on Injection-Induced Seismicity, published in this issue of SRL.
[ Close ]
July 1, 2015 – Volume 86, Number 4, the July/August 2015 issue of Seismological Research Letters, is now available online at the GeoScienceWorld website.
This issue features a Focus Section on Injection-Induced Seismicity, guest-edited by David W. Eaton and Justin L. Rubinstein, and also includes:
SSA members can access the complete online edition here.
Not a member? Join now to get immediate access.