Welcome!
Photo Credit:
Ross Berteig
December 1, 2014 – SSA's 2015 annual meeting will be held 21 – 23 April at the Pasadena Convention Center in Pasadena, California. The meeting will provide a stimulating exchange of research on a wide range of topics with colleagues from all over the world. Oral presentations, poster sessions, exhibits, field trips, business meetings and social gatherings all provide participants the opportunity to meet and share with their peers.
Abstract submissions are now being accepted online (the abstract submission deadline is Friday, January 9th at 5 PM Pacific time). Descriptions of the 29 special sessions planned for the meeting are here.
Information and registration for exhibitors and sponsors is also available.
For further information please visit the meeting home page.
November 17, 2014 – SSA is pleased to announce the recipients of two prestigious awards for 2014.
Dr. Thorne Lay
Thorne Lay, Professor of Earth Science at UC Santa Cruz, will receive the Society's highest honor, the Harry Fielding Reid Medal, which recognizes outstanding contributions to science and society. Dr. Lay is an influential seismologist and community leader whose research has refined our understanding of the Earth's deep interior.
Known for consistently contributing to advances in some of the most difficult problems in seismology, Lay's broad scientific outlook is reflected by the breadth of his research contributions to the imaging and improved understanding of Earth's interior, the study of earthquakes and the monitoring of nuclear explosions.
Dr. Victor Tsai
Still early in his career, Victor Tsai, of Caltech's Seismological Laboratory, has already established himself as a leading seismologist, conducting pioneering research in the emerging fields of ambient noise and glacier and river seismology. For his work, the 32-year old Tsai will be awarded the Society's Charles F. Richter Early Career Award, which recognizes outstanding contributions to the goals of the Society by a member early in his or her career.
These awards will be presented at the Society's 2015 annual meeting held April 21-23, 2015 in Pasadena, California. Additional information is available in two press releases:
October 1, 2014 – Readers of Seismological Research Letters (SRL) no longer have to wait for two months between issues to read new articles. Beginning today, SRL joins BSSA in publishing articles "ahead of print." As soon as an article has been reviewed, approved, copyedited, and formatted for publication, rather than being held until an entire issue is ready, it will be posted online. Every Wednesday SRL articles that have been approved for publication in a future issue of SRL will be made available to all SSA members (as well as institutional GeoScienceWorld subscribers. SRL has become a highly respected journal with one of the shortest times to publication of any journal in the field. Publishing articles ahead of print will make that even shorter.
To receive weekly email "Publish Ahead of Print" journal contents alerts for SRL and BSSA please click here to subscribe.
September 19, 2014 – Deborah Weiser of UCLA, recipient of this years GEO-CVD Student Travel Grant, represented SSA at the annual Geosciences Congressional Visits Day (GEO-CVD), September 16–17, in Washington, D.C. Debbie participated in seven meetings on Capitol Hill, including Senator Patty Murray's constituent coffee and meetings with key staff in three Congressional offices (Representatives Rohrabacher, Bass, & Speier) and four Senate offices (Senators Boxer, Feinstein, Murray and Cantwell). Her report on her experience will appear in a future issue of SRL.
GEO-CVD '14 was a great success, with over 100 individual Hill meetings scheduled for the 40+ participants this year. The overarching message for GEO-CVD is the importance of continued federal investment in geoscience research and development … [Read More]
July 3, 2014 – Congratulations to the winners of the 2014 Student Presentation Award! These awards are given for an excellent poster presentation or talk at each Annual Meeting. For more information about these awards and links to the abstracts of all the winning presentations please visit the Student Presentation Awards page.
Latest SSA Journals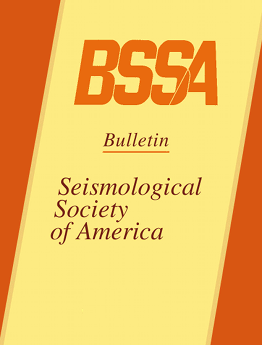 December 4, 2014 – The complete Decembber 2014 issue of the Bulletin of the Seismological Society of America (BSSA vol. 104, no. 6) is now available to SSA members and institutional subscribers online at GeoScienceWorld and BSSA Online. Click to view the table of contents for the issue. SSA members should click here to access full text or PDFs of all articles from the issue (log in with your SSA username and password required).
A press releases highlighting an article from the issue is also available:
Some sections of the San Andreas Fault system in San Francisco Bay Area are locked, overdue (Lienkaemper et al.)
On the Cover…
Sakurajima volcano in southern Japan produces vulcanian eruptions from its Showa crater several times each day. Intense blasts are well-recorded in the infrasound band, provide insight into eruption dynamics and atmospheric prop- agation phenomena, and are the subject of an SRL focus section guest-edited by David Fee and Jeffrey B. Johnson. The cover shows a sequence of images recorded at 5 s intervals for a minor explosion that occurred 21 July 2013 at 0955 local time. Infrasound arrived at the KUR station 3.5 km away with peak excess pressure of ~20 Pa. Image timing is synchronized with the in- frasound waveform; the red/black transition corresponds to source signal timing at the vent.
[ Close ]
November 3, 2014 – Volume 85, Number 6, the November/December 2014 issue of Seismological Research Letters, is now available online. This issue includes a focus section on Sakurajima Volcano Infrasound as well as:
SSA members can access the complete online edition here.
Not a member? Join now to get immediate access.