Bon Voyage! It's Global Travel Grant Application Time
Throughout July, student and early-career members are invited to apply for the next round of SSA Global Travel Grants. The grants of up to $2,500 dollars (plus an additional $500 to help cover parents' childcare costs) have already paid the way for dozens of SSA members to attend seismology-related conferences and workshops, in-person or virtual, hosted by other organizations worldwide.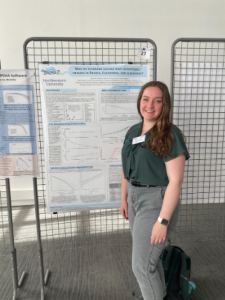 As recipients like Molly Gallahue point out, the grants offer student and early-career members a helping hand over the financial obstacles that can stand in the way of attending conferences and making career-advancing connections in the wider scientific community.
Gallahue, a PhD candidate at Northwestern University, said that her Global Travel Grant, which took her to the SIGMA2 Closing Symposium conference in Avignon, France, at the end of May, also "took so much financial and logistical stress off myself, which cannot be underestimated with all the remaining complexities of international travel due to the pandemic." The conference, her first outside North America, was also the smallest conference Gallahue had ever attended.
"I found this small, tight knit venue to be a massive benefit. It allowed me to meet and speak directly with several keynote speakers," she pointed out, recalling how she swapped contact information with a speaker who works intimately with French historical intensity data. "This contact will be extremely valuable, as I work with intensity data extensively and plan to use some of the remaining time in my PhD to explore French hazard analyses."
The conference was the conclusion to the five-year Sigma2 project, and Gallahue found it "oddly validating" to hear how many questions remain unresolved. "As a graduate student who is focused on completing a degree, it can sometimes be distressing when you're unable to answer all questions that come up, but this conference reminded me that even some of the best scientists and leading experts can't answer all their questions."
An SSA Global Travel Grant was also Shanna Chu's ticket to France, where she attended "Earthquakes: Nucleation, Triggering, and Relationships With Aseismic Processes (3rd edition)" in Corsica last fall. For Chu, a USGS Mendenhall Postdoctoral Research Fellow in Menlo Park, California the workshop in Corsica was an opportunity to present her work on fault complexity and receive critically important feedback. She relished scientific discussions that stretched into coffee and meal times as she learned about "some really exciting work done by other early-career scientists." The workshop, which introduced her to new approaches to research, also included a final brainstorming session about how researchers could advance the field of seismology. The valuable takeaway of the session, she told SSA, was "that we should synergize different backgrounds (observation, experiment, modeling, field) in future collaborations."
As many destinations have eased COVID-related restrictions, Chu welcomed the return of face-to-face networking with other early-career scientists. Her swims in the Mediterranean were a refreshing bonus. Likewise, Gallahue explored historical sights after her workshop and enjoyed engaging in some of her first attempts at conversations en francais. After picking up what she could from Duolingo in the weeks leading up to her departure, she plans to continue learning French, "which I don't think I ever would have considered if not for this experience," she said.
Like Chu, Gallahue also learned more about how scientists near and far can work together to advance earthquake science. "It was fascinating to see how international collaborations are fostered," and "heartwarming to see so many people greet old friends and colleagues, overcoming distance and language barriers to discuss science."
Like all past Global Travel Grant recipients, both would encourage others to take advantage of this unique SSA member benefit. "This travel grant opportunity is stellar," Gallahue told SSA, "and I'm proud to be a member of an organization that enthusiastically supports both students' professional development and scientific collaboration, including when it is outside of the organization's own events."
Student and early-career members are invited to apply for an SSA Global Grant every July and February. For more information, visit seismosoc.org/awards/apply-for-the-global-travel-grant/.