1 November 2023–The Earthquake Engineering Research Institute (EERI) and SSA are pleased to announce that Helen Crowley, secretary general of the Global Earthquake Model (GEM) Foundation, is the 2024 recipient of the William B. Joyner Lecture Award.
Crowley will deliver the Joyner Lecture at the EERI Annual Meeting to be held 9-12 April 2024 in Seattle, Washington and at the 2024 SSA Annual Meeting to be held 29 April to 3 May 2024 in Anchorage, Alaska.
Crowley's Joyner Lecture "Why seismic hazard modeling has become a risky business" will look at the role that probabilistic seismic hazard models have historically played in defining actions for seismic design, will review the criticisms that have been placed on these models—especially, but not only, after damaging earthquakes—and will present numerous examples that underline the need for risk assessment to be an integral part of this process going forward.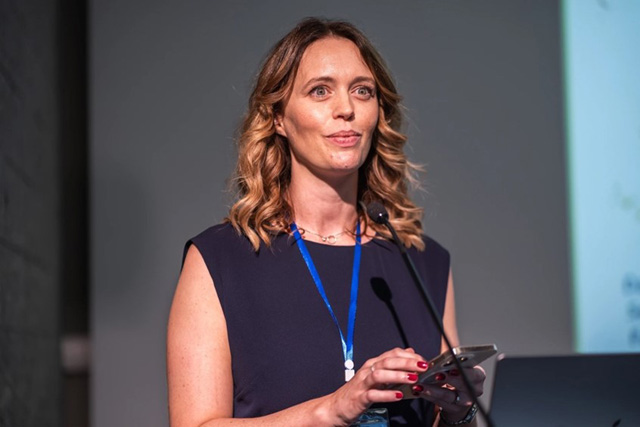 The lectureship is jointly awarded by EERI and SSA to those who have provided outstanding earth science contributions to the theory and practice of earthquake engineering or outstanding earthquake engineering contributions to the direction and focus of earth science research—together with demonstrated skills of communication at the interface of earthquake science and earthquake engineering.
The lecture honors the distinguished career of William B. Joyner at the U.S. Geological Survey and his abiding commitment to continuing communication and education at the interface between research findings of earthquake science and the practical realities of earthquake engineering.
Crowley's research contributions at the interface between earthquake engineering and seismology were acknowledged early on in her career, after she won the 2009 European Geosciences Union Plinius Medal for "outstanding contributions … in the neighbouring fields of structural engineering and engineering seismology." Her research has touched on many topics related to seismic risk mitigation, from the definition of seismic actions for earthquake loss models and seismic design codes, to the development of regional exposure and vulnerability models for the built environment.
She has collaborated closely with both the engineering seismology and earthquake engineering communities in Europe, as a member of the European Plate Observing System (EPOS) Seismology Consortium, and as the coordinator of the development of the first open European Seismic Risk Model (ESRM20).
In her nomination and support for the award, Crowley's colleagues noted her remarkable track record in collaborating with large teams and working with seismologists and geotechnical engineers to produce novel and effective risk assessment and risk mitigation solutions.
She has recently been appointed as the secretary general of the Global Earthquake Model (GEM) Foundation, a nonprofit non-governmental organization that drives a global collaborative effort to develop open data, tools and software for state-of-the-art seismic hazard and risk assessment.
Crowley has nearly 200 publications, including more than 70 papers in international peer-reviewed publications, covering many aspects of earthquake engineering with a common thread of earthquake risk estimation.
Crowley has served as an associate editor and is now editor for Earthquake Spectra and was awarded the 2012 EERI's Shah Family Innovation Prize.