18 July 2023—It's almost time to submit your session proposal for the next Annual Meeting. Learn how to get started at the SSA mentoring session on 25 July.
Organizing a session for the SSA Annual Meeting is one of the best ways to make a splash in the global seismological community, so get your proposals ready. Submissions open in August, and you won't want to miss this career-advancing opportunity.
"It's a great way to get your name out and establish yourself in a particular research area," says SSA 2024 Co-Chair Michael West. "It's great personal publicity."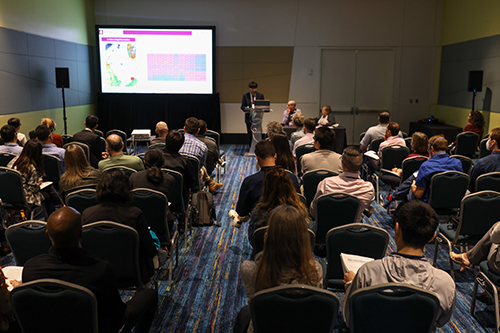 It's also an important way to ensure that the meeting serves the needs of members across the SSA community. "When you propose a session, you get to steer the science, and that really does impact who will attend," West says, explaining that one session description can be the draw for many researchers worldwide who share the same scientific interests.
West looks forward to reviewing proposals with his fellow co-chair and University of Alaska Fairbanks colleague Carl Tape and encourages every member to submit one.
Where to start? If you've never organized a session before (or just want a few tips about the process), be sure to register for "General Advice for SSA Members and How to Convene a Session at the Annual Meeting," an online mentoring session on Tuesday, 25 July at noon Pacific. SSA mentors Sean Ahdi (U.S. Geological Survey), Renate Hartog (University of Washington), German Prieto (Universidad Nacional de Colombia) and Elizabeth Vanacore (University of Puerto Rico at Mayagüez) will walk participants through the process and field questions in this one-hour session offered free of charge for all SSA members.
That advice will include casting as wide a net as possible for the co-conveners that will join your session, looking beyond your institution and home country for members who are just starting their professional journeys as well as more senior members.
Daniel Trugman, the 2023 recipient of SSA's Charles F. Richter Early-Award, says that convening requires careful thought and planning, but is well worth the effort. "Convening a session can be quite rewarding because you can help to build a community of scientists from around the world that are all interested in the same important problem. This can really help early-career researchers, or anyone, really, make connections to people you may not ordinarily meet, which can then catalyze new scientific directions, collaborations, funding opportunities."
Need another reason to submit a session? "It's fun," West says. "You get to run the session. You get to choose how to introduce the topics, how to frame the discussions." You feel a little extra confidence when you stride up to the meeting registration booth and say you're a convener, he says. "It's a title that carries some weight."
Click here to register for "General Advice for SSA Members and How to Convene a Session at the Annual Meeting."