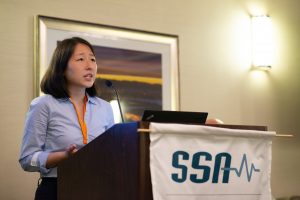 Isabel Hong has always been enthralled with earthquakes. As an elementary student growing up in Washington state, she made frequent leaps under her school desk for earthquake drills. And when an earthquake finally rocked her hometown, she felt prepared. "I wasn't fearful. I knew just what to do," recalled Hong, now a PhD candidate at Rutgers University. "That experience jumpstarted a fascination with earthquakes."
Today she is well on her way to enjoying a rewarding career in earthquake science, thanks to the generosity of SSA members; their donations made it possible for her to attend the 2019 SSA Annual Meeting. Hong was one of 21 recipients of the SSA Annual Meeting Travel Grant, which covers registration costs and provides a stipend for lodging, travel and other expenses.
"The intimate setting in which to discuss my research and hear about other investigations and experiments from other scientists was so valuable," Hong said. "I've been to a lot of other conferences, but this one was the first meeting where it was a deep dive into a specific field. The whole community was incredibly welcoming."
When she heard that the meeting was being held in Seattle, Washington, Hong knew she had to go. "I knew it would be a great opportunity to meet with my collaborators whom I had emailed and talked to on the phone, but never met in person," she said. "My research is based off the coast of Washington, too, so I wanted some more time exploring the Cascadia region."
And explore she did. Hong took full advantage of all the opportunities available at the Annual Meeting. "I had such a great time on the field trip; I got to spend some time with scientists and researchers in a more informal setting. Of course, everyone who was on the field trip had mutual interests, so making conversation was easy."
At the career breakfast, Hong formed connections with her peers. "I finally met some of my collaborators from the U.S. Geological Survey."
This past August, Hong successfully defended her dissertation on prehistoric earthquakes in the Cascadia region, using fossils of diatoms to track elevation changes over time. Presenting her work at the Annual Meeting, she said, was key to her success. The experience helped clarify her ideas, understand what final touches she needed to add and opened up occasions for discussion with seasoned seismologists. Although Hong has her sights set on academia, other meeting attendees who approached her after her presentation "opened up [her] eyes to other avenues" in which studying earthquakes can be a fruitful and fulfilling career.
"I'm so grateful that I was able to attend the Annual Meeting," Hong said.
Her experience wouldn't have been possible without the donors who generously fund SSA Student Travel Grants. Discover how you can ensure the future of seismology through a donation to the Student Travel Grant Fund today.
Please give generously.
Image: Isabel Hong presenting her research at the 2019 Annual Meeting in Seattle